Automation Manager Used to Inspect Fasteners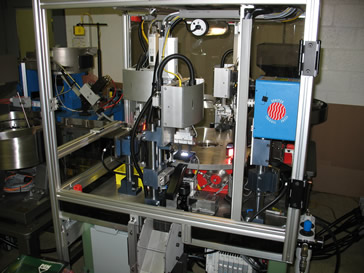 Why : Fasteners, like bolts screw etc. need to be precise without flaws in the thread. Automation manager has been used both for automated inspection and manual off line inspection.
A feature for the manual inspection is the quick loading of different product tolerance files. A spread sheet defines the product along with the product tolerances. Additionally, Work Order numbers are tracked so that product specifications are linked to the work order and this can be automatically loaded when a work order is selected
Advantages/Benefits. :
Key here has been the integration of SPC. The SPC data per analysis is logged and shown on the fly. Small batch size runs are appended too.
The administration of the inspection operators and work order are handled seamless by Automation Manager, as is the loading and setting of tolerance in a single spread sheet file
Automation Manager Features Used :
SPC logging
Setting product tolerances via a spread sheet
Motion control to locate camera/illumination for the specified product
NOTE no PLC required
Hardware :
PCI advantech IO card
Pixel Link and Silicon Imaging Cameras
Parker VIX motion control
Operation :
The operator identifies himself and inputs a work order number. If the work order is not yet linked to a product, he inputs the product. The system remembers this for future use. Once selected the system drives the motion to the height location required to inspect the product. In the manual system whenever a part is set on the table the inspection is manually triggered and the SPC data logged and displayed.